THE UNTITLED IMAGES
Khaled Barakeh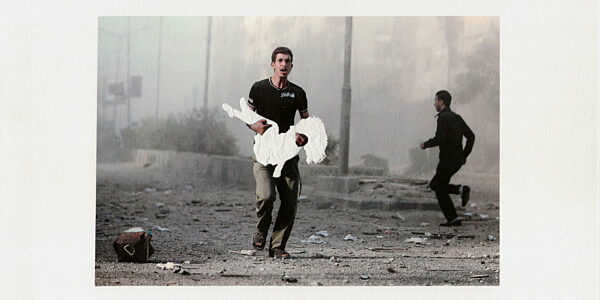 The photo series The Untitled Images consists of five news photos taken in Syria that show scenes of suffering and loss. Barakeh meticulously removes the image of the victims from the photo; after his operation, only their body contours remain. This process, equally savage and protective, highlights the presence of the victims through their absence, while simultaneously shielding them in anonymity. In addition, he shifts the viewer's focus to the pain and suffering of those who carry the victim. By installing the work at a low height, Barakeh obliges the viewer to bend down, perhaps kneel, whilst approaching the image.
This series of images can be understood in the collection of works by artists such as Alfredo Jaar and writings such as Susan Sontag's "Regarding the Pain of Others" (2003) that challenge stereotyping, voyeurism, and power relations in contemporary photojournalism, and thus question the relationship between photography and empathy.
2014 – 5 digital prints on paper, 21x30 cm each

Courtesy of the artist

Khaled Barakeh
°1976, Syria

Khaled Barakeh is a Syrian conceptual artist and cultural activist. Driven by his observations of longstanding social injustice, Barakeh approaches creative practice as a tool for societal change; manipulating commonplace visual and cultural touchstones to expose and undermine stagnant power structures. In recent years, his projects have delved into the media's portrayal of victims of conflict, once cohesive communities divided by political strife, and the dynamics of integration for refugees. Alongside Studio Khaled Barakeh, he also initiated coculture e.V in 2017 - a non-for-profit umbrella organisation with a suite of initiatives that leverage artistic thinking to directly address issues of contemporary mass migration, focussed on addressing the challenges faced by displaced cultural producers in the Middle East, Europe, and beyond. Khaled Barakeh's work has been exhibited at Künstlerhaus Stuttgart, The 11th Shanghai Biennale, Salt Istanbul, The Frankfurter Kunstverein, Artspace New Zealand, The Busan Biennale, The Museum für Kunst und Gewerbe Hamburg, and many other international venues and institutions. He graduated from the Faculty of Fine Arts in Damascus in 2005 and received his MFA from Funen Art Academy in Odense, Denmark, in 2010. In 2013, he completed a Meisterschuler study at the Städelschule Art Academy in Frankfurt a.M., Germany. He lives and works in Berlin.