SPARKS
Francesca Grilli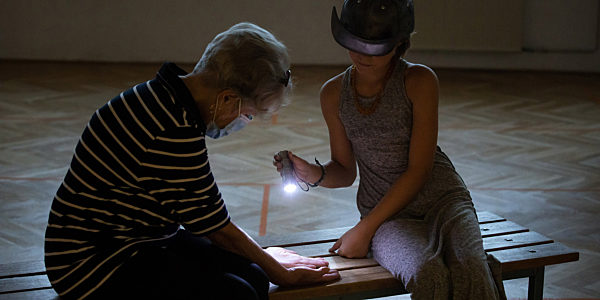 Performance
26 and 27 June, 14:00 - 18:00
Duration: 5 to 10 min.
Language: Dutch
Location: Atelier 1 and 2
Free with reservation expo visit
"I am interested in the sense of responsibility, which I put in the
children's hands, in their firm belief in their visions and in their ideas
of the future. The action contains a profound sense of education, of
the idea of the performance as a magical and necessary act. I
believe in a utopia-in- the-making as a social objective, even if it
remains a wonderful and intangible, incomprehensible product."
– Francesca Grilli on Sparks
SPARKS 2021 is a performance preceded by a workshop, in which the power relations between child and adult are turned upside down. It is based on a small but revolutionary act: consigning in the hands of children the reading of our future as a gesture of hope and rupture with the past. After an elaborate workshop with the artist and the poet Azzurra D'Agostino, a group of local children accompanies a group of adults inside the exhibition space. There, they can read their hands, one at a time and once only, thus activating an open revelatory and interpretative process, where they are themselves the makers of visions and reflections.
In this edition of SPARKS 2021, the element of touch is replaced by a small flashlight; transforming light into an element of intangible transmission, augmenting a child's illuminating power - its sparks - and cloaking the shared game in magic.
In STUK, the performances will take place in the afternoons of June 26th and June 27th in the exhibition spaces of Atelier 1 and 2. In the exhibition dates prior, the visitor will be able to see an installation version of the work, comprising a series of sculptures and the video RAYS.
SPARKS 2021 and RAYS together form the project GLARE, which the artist is presenting for the first time at STUK in its entirety as part of the exhibition Wired for Empathy.
Francesca Grilli
°1978, Bologna, Italy
Francesca Grilli utilises a multidisciplinary language focussing on performance and installation practices. Recurring in her practice are concepts of the resistant body and the act of disappearance. Grilli has participated in numerous performance art festivals and exhibited solo and collective in international museums and institutions including: Baltic Circle, Helsinki (2020); Mladi Levi Festival, Lubiana (2020); Kaunas Biennal, Kaunas (2019); Saal Biennal, Tallin (2019); Santarcangelo Festival, Santarcangelo - Rimini (2019-2017); Palais De Tokyo, Parigi (2017); Serralves Foundation, Porto (2017); Netwerk, Aalst (2017); Van Abbemuseum, Eindhoven (2017-2015); Kunsthalle Osnabrueck, Osnabrueck (2017); Centrale Fies, Fies - Trento (2017 - 2006); MAXXI, Roma (2016); Padiglione Italia, 55. Biennale Arte di Venezia (2013); MADRE, Napoli (2011); MACRO, Roma (2012); Serpentine Gallery, London. (2009); MAMBO, Bologna (2010), Manifesta7, Bolzano (2008). She lives and works in Bologna and Bruxelles.
Credits

Francesca Grilli, Sparks 2021
Azzurra D'Agostino / Words; Benno Steinegger / Movements; Roberto Rettura / Sound; Paola Villani / Resin sculptures realization; Roberto Atzori /assistant set design, Chiara Massari / Producer; Giulia Traversi / Diffusion and communication; Chiara Fava / Administration
Sparks 2021 wishes to thank for their support during its journey: Santarcangelo Festival (Santarcangelo, IT); Welcome to the village (Leeuwarden, NL); Saal Biennaal (Tallin, ET); workspacebrussels (Bruxelles, BE)
Promoted by: Contemporary Locus Project partner: corpoceleste_C.C.00#
Destination museum: GAMeC, Modern and Contemporary Art Gallery, Bergamo Cultural partners: GAMeC, Modern and Contemporary Art Gallery, Bergamo, Associazione Teatro di Roma, Rassegna Buffalo, MACRO museum of contemporary art of Rome; Base-Milano, Milan; BUDA, Kortrijk; Gender Bender Festival, Bologna; Immaginare Orlando, Bergamo; Kaaitheater, Bruxelles; Kunst Merano / Merano Arte, Merano; Level Five Artistic Ecology, Bruxelles; MACTE - Museo di Arte Contemporanea di Termoli; MAXXI L'Aquila, L'Aquila; Netwerk Aalst, Aalst; RUPERT, Vilnius; Snaporazverein, Samaden; STUK Arts Center, Leuven, workspacebrussels, Brussels.