SOMA
Fia Cielen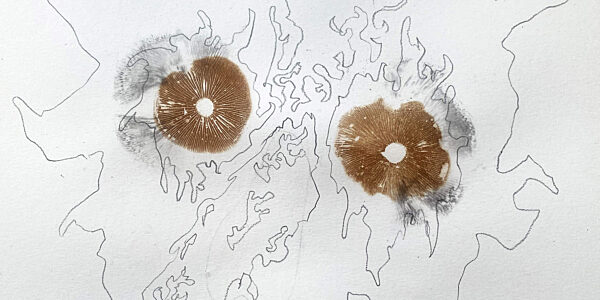 'I am attracted by in-between states, transitory zones and the uncanny, which becomes evident especially in my drawings. They are populated by creatures which exist on the threshold between the human, the animal, and the elemental. Beings on the verge of their next materialisation.' - Fia Cielen
SOMA is a series of new works on paper depicting hybrid beings inspired by old lore and nature myths, a motif that frequently appears in Cielen's practice and can be linked to ancient European pre-christian culture, when the wild and magical were still part of daily life. Central to the drawings are the prints of fungus spores. For 24 hours, the caps of mushrooms were placed on the paper to obtain a print of the spores. As a result, the works inherently contain a potential new life: after all, mushrooms can grow again from the spores in the right conditions. This metamorphosis can take place even after being dormant for centuries. Certain species of fungi are psycho-active and their use equally implies the possibility of transformation. Since prehistoric times, they have been used to expand consciousness, induce trance or travel between incorporeal worlds.
2023 - works on paper, varying dimensions (59 x 42 cm / 30 x 40,5 cm / 21 x 29,5 cm)


Courtesy of the artist
Commissioned by STUK, House for Dance, Image & Sound in the context of The Ecstatic Being. Between knowing and understanding (2023).
Fia Cielen
°1978, Hasselt, Belgium


Fia Cielen makes drawings, sculptures, and (video-)installations. The notion of metamorphosis is a recurring aspect in her practice underpinning most of her work. The artist is particularly attracted by in-between states, transitory zones and the uncanny, which becomes evident especially in her drawings. They are populated by creatures that exist on the threshold between the human, the animal, and the elemental; beings on the verge of their next materialisation. An important source of inspiration are masks – carnival masks, old folklore and ritual masks, and ritual animal disguises. In an over-regulated world, Cielen wants to depict the states in which we can reclaim a sense of wildness. Cielen graduated from HISK in 2008. She teaches at KASK School of Arts, in Ghent. Her work has been exhibited at numerous exhibitions, most recently in DMW Gallery, Sofie Van Den Bussche Gallery, Pilar artspace Brussels and Ballroom Gallery. She lives and works in Antwerp, Belgium and is represented through DMWGallery.

Portrait © Chen Vandeput