Fluid / Stepping into the unknown / Aura / Fluidity
Emma Talbot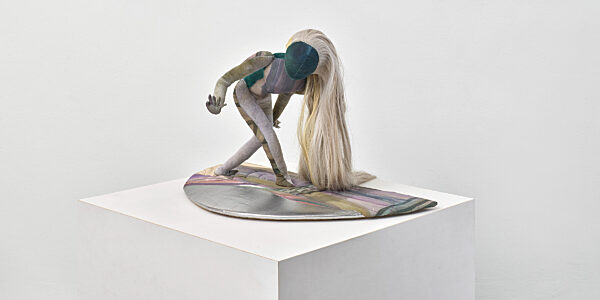 Stay fluid
Love and life are the same thing
Always in motion, like time
A flexible movement
Transformative energy
– Emma Talbot
In her multidisciplinary practice, British artist Emma Talbot turns highly personal feelings and emotions into wider narratives that address prevalent contemporary concerns dealing with feminism, capitalism, technology and our interaction with nature.
In Fluid four large silk panels are suspended from the ceiling. The dreamy landscapes, painted in acrylic, are punctuated by the artist's tender words indicating how dreams can reach us from within, how we are always connected to nature and how our energy transforms; from slow movements to fierce explosions. As Dutch art critic Esther Darley states: 'The endless cycle of life appears to be Talbot's main driving force. In graceful images of metamorphosis and transitions, she depicts the unbridled energy and resilience that underlies them.'
The above themes are extended in the sculpture Stepping into the unknown in which a female figure is presented in a dynamic pose both fearsome and forceful at the same time. The sculpture's thick, light-coloured, straight hair reminds us of the artist herself. Indeed, all figures in Talbot's work can be understood as avatars of the artist.
Two drawings, Aura and Fluidity, complete Talbot's installation in this exhibition in STUK. The practice of drawing forms the basis for the construction of Talbot's imagery; she understands it as a means of recording the imaginative structure of imagery from 'the mind's eye'.

'Because of the role that Talbot assigns to the subconscious, she also seems (...) to be responding to the post-Enlightment era in which we live. In a world where we want to control everything with our intellect and where everyone is connected to their own device, she is open to the transcendent (..).' - Esther Darley
Fluid (four parts), 2018 - acrylic on silk, each 229 x 72 cm, ET/M 6
Fluidity, 2018 - watercolour on Khadi paper, 30 x 42 cm | 11 3/4 x 16 1/2 in, ET/P 148
Aura, 2019 - watercolour on paper, 30 x 42 cm | 11 3/4 x 16 1/2 in, ET/P 13
Stepping into the Unknown, 2020 - mixed media, 75 x 40 x 48 cm without plinth, ET/S 1

Courtesy of the artist and Petra Rinck Galerie
Emma Talbot
°1969, Stourbridge, United Kingdom
Through drawing, painting, animation and sculptures, Emma Talbot explores the inner landscape of thoughts and emotions based on her own experiences and memories. Her subjective responses are cast into wider narratives addressing mythical tales as well as contemporary concerns. In her work, she often intertwines text and image in a form of visual poetry. Talbot has won numerous awards, most recently the 8th Max Mara Art Prize for Women. Her work has been shown internationally at solo exhibitions in Beiqiu Museum (Nanjing, CH), Whitechapel Gallery (London) and Collezione Maramotti (Reggio Emilia, IT), and at group exhibitions such as LIAF Biennale (NO), Kunstverein Friedrichshafen (DE) and the 2022 Venice Biennale. Forthcoming exhibitions in 2023 will take place at a.o. Model (Sligo, IE), KINDL Kesselhaus Berlin (DE) and Kunstmuseum Bonn (DE). Emma Talbot is represented by Petra Rinck Gallery in Düsseldorf (DE) and Gallery Onrust in Amsterdam (NL). She lives and works in London.

Portrait © Thierry Bal Max Mara Prize